The CJR Team is excited to be gearing up for our 9th Annual Golf Invitational!
Hard to believe another year has passed. I would like to thank all of our past sponsors and participants for their continued support and welcome those of you who would like to be part of our effort . Your generosity has been greatly appreciated over the years. Because of you, Caleb will never be forgotten!
Tournament Date & Location
Monday, April 23rd 2018
The Country Club at Woodloch Springs
Schedule of Events
9:00am – Golf Registration
10:30am – Shotgun Start
5:00pm – Cocktail Hour
6:00pm – Dinner & Awards
Without you, none of what we do would be possible.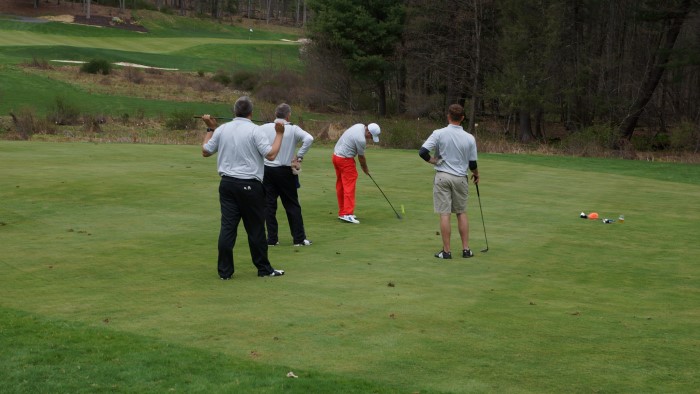 We are proud to announce that Caleb's Memorial Playground at Hawley's Bingham Park has been completed. A permanent handicap accessible bathroom facility, walkways around the play area and a new toddler play system were all added. Since its dedication on November 1st, 2014 the playground has been a popular attraction for children of many ages. We are extremely happy to see all the children enjoying Caleb's playground!
As in past years, we proudly support The Children's Hospital Of Philadelphia brain cancer research team and will continue sponsoring a room at the Ronald McDonald House in Caleb's name. We also receive requests from families experiencing financial hardship while caring for their critically ill child. The CJR Memorial Foundation helps these families make ends meet so the parents are not forced to chose between their jobs and spending time with their sick child. For two years now we have been in partnership with the Make-A-Wish Foundation! Because of sponsors like you, three critically ill children and their families from Northeast PA went to Disney World for one week, all expenses paid! Flights, hotel, park tickets, special meet-and-greet experiences and more! We can't wait to make these wishes come true for more children in our area this year.
This year, the CJR Memorial Foundation is celebrating kids who are making a difference in the fight against cancer! We are connecting with kids who are cancer survivors or who were inspired by someone with cancer in their life and have used this experience to help others. Applicants will be narrowed down by our board and a "Most Inspirational Kid of 2018" will be selected to win a grant towards their charitable mission.
Thanks to the contributions and thoughtfulness of every sponsor, participant and volunteer we have become a huge success. Join us again in celebrating Caleb's memory at this years event.
If you or anyone you know is interested in joining the CJR Team or donating please email me at: joseph@cjrmemorialfund.org
All donations are tax deductible. Tax ID # 80-0545692 , A 501(c)3 Foundation